Monday, February 28, 2005
Abyss Ahead!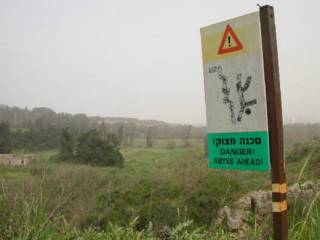 From
Yedi'ot Aharanot
:
The government is planning a construction boom in West Bank settlements that includes authorizing existing illegal outposts, Yedi'ot Ahronot reported Friday. Under the scheme, 120 unauthorized West Bank outposts, which the United States wants to see dismantled, would be retroactively approved, the newspaper said.

The Israel Land Authority, headed by Deputy Prime Minister Ehud Olmert, is planning to build hundreds, and in some cases thousands of new residential units in several West Bank communities.

The town of Maaleh Adumim is at the top of the list and is expected to see 2,100 units built this year. Other communities that are slated to benefit from the plan include Modi'in Ilit, Beitar Ilit, and Givat Ze'ev.
(photo by my dad, Nakhal Poleg nature center, April 2003)